There's nothing that gives you a wake up call like the start of a new season. As leaves turn colors and the air gets cooler outside, we're reminded of all the changes we hope to make in our own lives. Whether you're looking to shed a few pounds or fix your metabolism, fall offers the perfect time for your nutrition reset. Cultivating new nutrition habits doesn't need to be overwhelming ー it's all about making small changes that add up to major improvements. If you're ready to adopt a few habits to kickstart your health journey this fall, you've come to the right place.
Plan out your dinners for the week
As the days begin to get shorter, popping a frozen dinner in the microwave becomes more and more enticing. You can ensure you are properly nourishing yourself and meeting your nutrient goals by planning ahead. If you're into meal-prepping, pick a day of the week and set aside time to get your groceries and prepare your meals. If not, make a plan for what you'll be cooking each night. If it's written out and you've bought the groceries beforehand, you're much more likely to follow through and make yourself a nutritious meal.
Start drinking more water
The temperature may be dropping, but your body still needs and craves proper hydration! You may not feel as thirsty as you do on extremely hot summer days, but continue carrying your water bottle around with you. Leave a cup of water on your nightstand to remind yourself to start your day on the right foot, and always have water with you at meals. Hydration is often overlooked but it's essential to reach your health goals.
Increase the amount of protein in your diet
For many of us, reaching our protein goals for the day is a challenge if we aren't thinking about it. If you are feeling like you don't have enough energy or are needing multiple cups of coffee to get through the day, you may not be fueling your body with enough protein.
As our lives speed up in this busy season, we often only eat an adequate amount of protein at dinner. Try adding eggs, greek yogurt, or nut butter into your breakfasts and incorporate meat, tofu, or quinoa with lunch. You should be aiming for 20-30 grams of protein per meal!
Incorporate movement into your day
As we start pulling out our coats and spending time outside becomes less enticing, it becomes very easy to resort to the couch. Bundle up and go for a walk outside, or do any other activity that makes you happy! Engaging in physical activity is an effective way to boost your metabolism. When we exercise, our muscles become more efficient at burning calories the rest of the day. Moving our bodies also releases endorphins that will leave you feeling much better than before! The hardest part is starting, but once you're off the couch and get yourself moving, you'll be so glad you did.
A change in season is the perfect time to reflect on your current habits and begin implementing new ones. However, as you embark on your health journey, remember that there's no perfect way to be or eat. Give yourself grace as you try adding in new habits, and know that nutrition is all about learning what makes your body feel its best! This fall can be the season when you become your favorite self. With a strong commitment to your goals, mindful eating practices, and making nourishing food choices, you can definitely get there.
---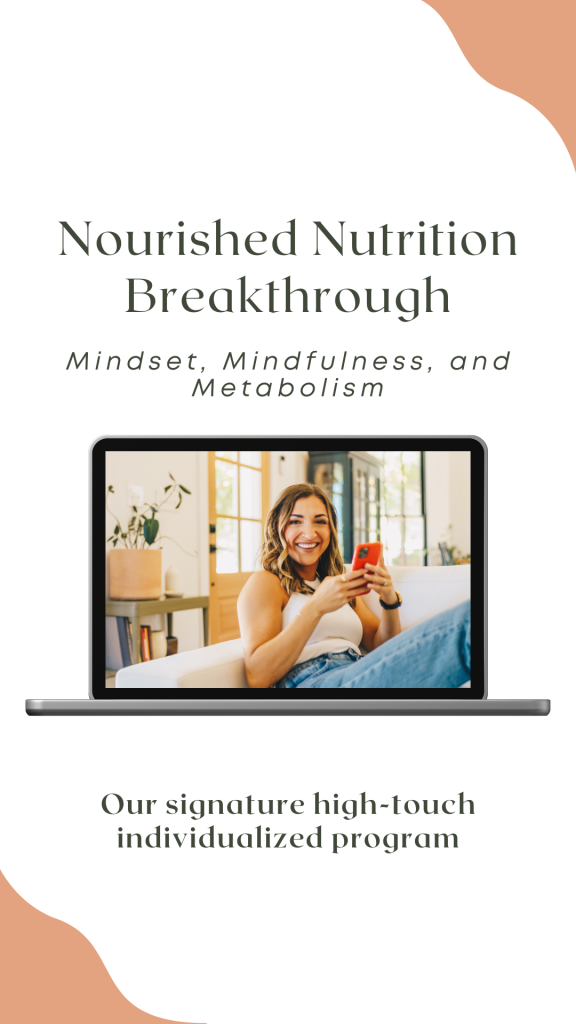 Are you tired of endless diets and gimmicks that promise quick results but fail to deliver? If you're ready to embrace a sustainable approach to weight loss, one that doesn't involve restrictive eating or relying on magic weight loss pills, then look no further.
Watch my program video here where you'll discover the secrets to shedding pounds for good while nourishing your body and mind.
This program is for you if you're ready to say goodbye to the cycle of temporary fixes and hello to a lifetime of feeling and looking your absolute best. It's time to take control of your health and well-being.
Take control of your health and weight loss goals now.
This article was written by Ari Harkavy, nutrition intern. Fact checked by Allison Tallman RD.