Holiday season is coming up, and that means New Year's resolutions are probably on your radar. Have you ever fully stuck to your New Year's Resolution? Or did you start strong for the month of January then give up a few months later? If yes, you're not alone! Read on to learn about how to make New Year's Resolutions that you can actually stick to.
Make SMART Goals
SMART goals are specific, measurable, achievable, relevant and time bound. Using this method allows you to set realistic goals that are clearly planned out and less overwhelming than making large general goals. To break it down:
If you have a goal of eating healthier in the New Year, this is how you may go about it with SMART goals.
Specific: Try to make your goal less general and more specific. Maybe instead of an overwhelming goal of trying to eat healthier you pick one aspect of your diet to focus on. A specific goal may be "I want to eat more vegetables daily" or "I want to make it a point to eat breakfast every morning".
Measurable: How are you going to measure this goal? Maybe you are going to make a goal to eat "one vegetable for a snack and one vegetable at dinner". Maybe you'll "eat breakfast on Monday through Friday mornings".
Achievable: Now is time to think of how to achieve this goal. For example "I will prepare vegetables for the week on Sundays" or "I will prepare breakfast the night before so it will be ready for me in the morning".
Relevant: Does this goal fit into your lifestyle? Maybe you always find yourself hungry before lunch time, so having a filling breakfast in the morning will be beneficial to your day.
Time-Bound: How long do you have to accomplish this goal? Maybe you want to start this goal In January and by February be implementing it consistently. Then you can start to add more SMART goals that fall under the theme of eating healthier.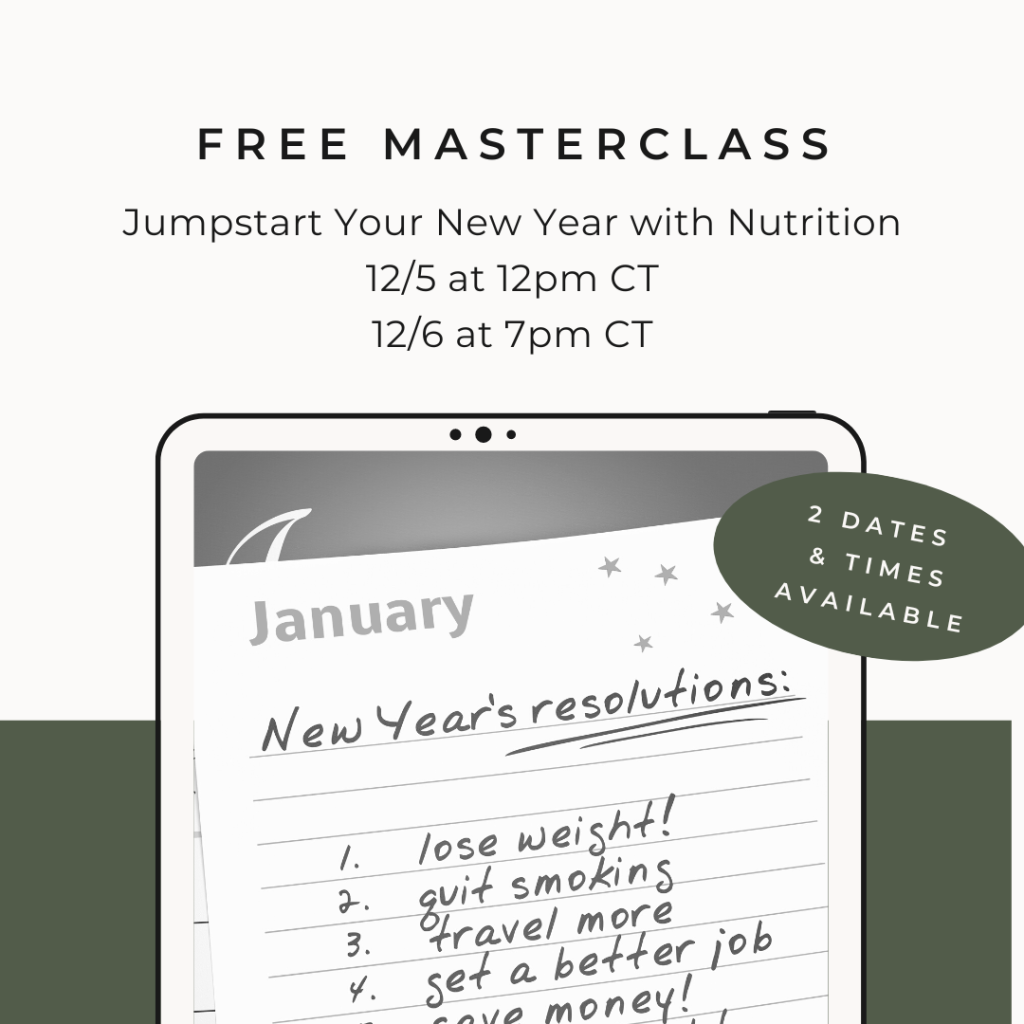 Part of making SMART goals, or any goals is having the tools you need to achieve them. Speaking of tools, our Jumpstart Your New Year Masterclass is less than a month away! In this Masterclass, we'll discuss the top mistakes individuals make when setting new years resolutions, how to see results and stick to them, and how to build consistent eating habits with ease in 2023.
Set yourself up for success this New Year season and make a change that will last you a lifetime in this free event. 2 dates and times are available, and a replay will be sent out afterwards to those who register. Hope to see you there!