Vacations don't have to be tricky when it comes to healthy eating. It's okay to want to choose healthier options while traveling away from home. It also doesn't have to be hard to choose to eat nutritious and filling foods, even when you are out of your normal routine. Here are 7 tips we have for healthy snacking while on vacation.
1. Plan ahead
While trying to snack healthy on vacation, it can be helpful to plan ahead. If you get too hungry and don't have food on hand, it can be easy to reach for whatever is available and easy. This can result in less nutritious foods being eaten. By heading to the store once you reach your destination, it can help you be prepared for midday hunger with nutritious and filling snacks.
2. Buy packable snacks
We recommend you have some packable and portable snacks on hand. Pick some snacks that could be brought poolside or could be put in a bag when you're walking around. You will be more likely to choose more nutritious options if you have them on hand and they are accessible.
Some examples of this could be a hummus and pretzels snack pack, individual trail mix packs, or on the go peanut butter dipping cups paired with pre-cut celery and apples. (Also check out this full snack list right here!)
3. Focus on pairing a carb, protein, and fat
By buying snacks that could be combined with each other, this can help create a filling and nutritious snack. Focus on finding choices that could include a carb, protein, and fat. Oftentimes, a protein source can also be considered a fat source, so this also could help make paring a carb with these easier. This will help you feel full and satisfied. Some good options could be fruit with nut butter, granola and yogurt, veggies dipped in hummus, or crackers paired with deli meat and cheese.
4. Try to eat snacks with 3g of fiber or more
Fiber helps you feel full and satisfied. It also helps to regulate hunger and can help with bowel movements while on vacation. Fiber can be found in many whole grain products, fruits, vegetables, legumes, and nuts.
5. Eat consistently
By eating consistently, you can ensure you won't go overboard on the less nutritious snack options. It's important to make sure you don't go too long without eating, as you will become ravenous and might reach for everything and anything that is accessible. By eating all meals and snacking between these meals, it will help you make healthier choices both during meals and snacks.
6. Try out fresh fruits that are grown in that area
Hit up a local farmers market if there is one around where you are vacationing. This can be a great way to try local fruits or foods grown around the area. Fruit is a great sweet treat that is perfect for the hot weather.
7. Remember to allow yourself fun foods too
While eating nutritious and filling snacks is important, it is also necessary to allow yourself fun foods too. Don't be afraid to have a sweet treat every night on vacation. By allowing yourself some fun foods, it doesn't become restrictive and it can make eating other nutritious foods more enjoyable.
In conclusion
It is completely doable and understandable if you want to continue to eat snacks that are filling and nutritious while on vacation. Just because you are out of routine doesn't mean you can't make healthier choices and stay on track with your health goals. Just remember that it is all about balance and listening to your body.
If you are still stumped on snack ideas for your next vacation, download our free snacking guide: Snack Your Way to Success! This guide is filled with more tips for healthy snacking as well as easy snack ideas that will keep you feeling satisfied. Check out our healthy snacking guide now to ensure snacking success on your next vacation or even just in everyday life!
Download our full snacking list to stay on track with your health goals this vacation right here.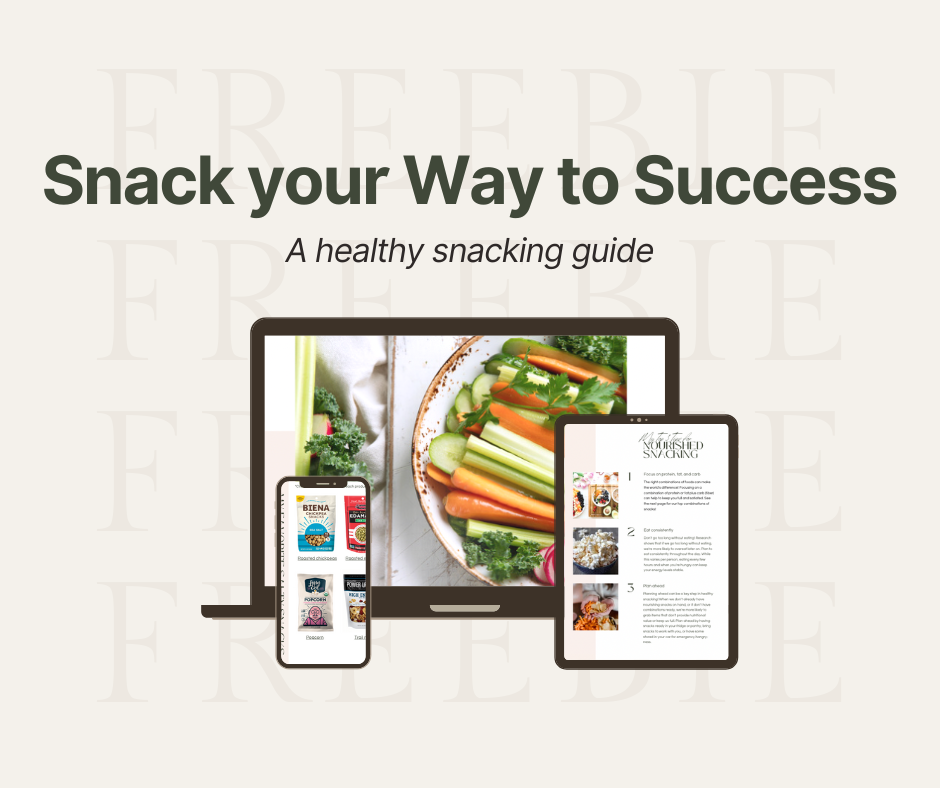 This article was written by Mackenzie Flug, nutrition intern. Fact checked by Allison Tallman RD.